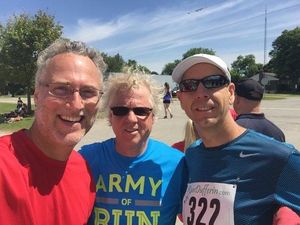 In the fall of 2015 I registered for the "Start to Run Clinic" at Running Free in Orangeville. Under the guidance and leadership of Jodi McNeill and her husband Norman Nadon along with their Running Free team of instructions I began a wonderful journey…I started running.
I met David Waters who was my inspiration to train harder, eat better and push myself each and every time we met as a group on Saturday mornings. David has gone on to be an avid runner with the dreams of running in the Boston Marathon. He runs in his hometown of Shelburne and often posts great photos of his early morning runs.
David writes: "Running has ultimately changed my life for the better. I use to think of food as something to fill me up so I wouldn't feel hungry but over the last number of years I've come to appreciate the health benefits of what it provides. My relationship with food and running has allowed me to shed 90 pounds in a very short period of time and with that time my energy has grown.
Running has given me a sense of community, a sense of belonging and a sense of wellness. Running allows me to become a better version of myself each and every day by being more mindful of my surroundings, my friends or business relationships.
Running has affected my life in ways that I never dreamed that it would. People have reached out and asked me how do I become a runner. I want do what you're doing can you help me and so it begins.
Running taught me to become present, be in the moment and allow myself to think about only what's happening right now. Yes, my mind wanders but only for a brief moment knowing it always comes back to what I'm doing right at this moment and at this moment I'm running free.
When I run I'm only ever running for myself. Nobody else and it doesn't matter how slow I run or how fast, the results are usually the same. I feel awesome for the rest of the day."
Angela and Greg Handford were also part of our group. Angela just recently completed the Chicago Marathon and will be running in the Scotiabank Waterfront Marathon being held in Toronto this weekend. I have met Greg and Angela on the Island Lake trails which is a favourite destination for runners of all abilities.
Tiffany Cliché who often posts on facebook some amazing photos of her early morning runs in the hills of Mulmur. Tiffany provided the following testimonial about why she loves to run.
"Running makes my soul happy. It makes me feel free. It connects me with so many amazing people and it makes me see our beautiful world in a whole new way".
Steve Hunter and Wade Speirs are ultra runners who often run the challenging trails at Mono Cliffs. Their idea of run is to tackle a 50 mile or 100 mile course. Steve states "Pushing the boundaries of what my body is capable brings me joy".
Lisa Hogben, who was one of my instructors for the Start to Run Clinic, states: "Encouraging other runners and helping them reach their goals. When I started running I had three young energetic sons at home. I started to run so that I could get away and think to myself. Not long after, I realized that I ran to be with amazing people whom I met through running. Sometimes I run alone, but I love running with my friends more".
Stephanie Maggs, Sharon Clark and Victoria Speirs on numerous occasions caught my attention with their often humorous postings on facebook after a very early morning run in extreme cold temperatures. They are all avid racers who run everywhere in and around Dufferin County. Stephanie and Sharon run because in their own words they love to eat! Victoria enjoys running because it is something that is just for her. She states "It's my time, my goals, my strength or depending on the day, lack there of. It's my gift to myself".
Judi Jamieson who is also an avid runner who frequently posts group photos on her facebook page of her running friends writes: "Running for me is a way to keep active, enjoy the outdoors, challenge myself with new goals, clean out the cobwebs in my head, great stress reliever, meeting new people, travelling to race destinations and pure euphoria feeling during and after a run and being in the company of people who have the same passion and enjoyment for the sport."
Orangeville's Running Free offers Women's Beginner Triathlon clinics, Ladies Run Clubs, Half Marathon Clinics and their Start to Run Clinic.
I posted a photo of the Burlington 5k Santa Claus run which was my very first race. My wife Wanda is now an avid runner and we will be competing in the Waterfront Half Marathon on Sunday. It is never too late to start the sport of running. I began at age 60 and I love it!
[metaslider id=1636]