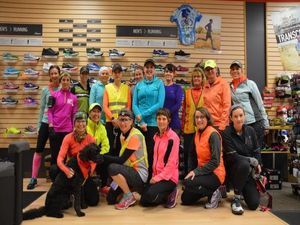 I'm not actually "running out of ideas" when I have a tendency to focus on the running events that have occurred in Orangeville/Dufferin County this year. I want followers of my blog to know that running isn't always about racing. You can join run clubs and enjoy the fellowship of a large group of equal minded individuals who want to keep fit by running. One such group in Orangeville is the "Ladies Run Club" which is sponsored by Running Free. Every Thursday night, starting at 6:30, the club meets at Running Free and sets out on a route determined by Jodi McNeill. Since the club meets in the fall head lamps are a necessity. The cost is $39.99 for twelve weeks. The interesting aspect of the registration fee is that you can earn your registration fee back in terms of a store discount if you participate in at least 8 out of the 12 weeks.
The runs are well organized and planned under the expertise of Jodi McNeill. She has a team of helpers who are easily recognized in their red Running Free outfits.
It was fun group to observe when Jodi was delivering her instructions for the evening. I tried to get an answer about how long they would be running but I came to the conclusion it all depended upon each individual participant. Since timing and personal best results are not an issue it's a very relaxing atmosphere to get out and run.
This was not an easy photo op for me since I'm an active runner. I was really tempted to purchase some of Running Free's fall and winter lineup of clothing. I now have a long "wish list" for Wanda when she does her Christmas shopping.
[metaslider id=1716]