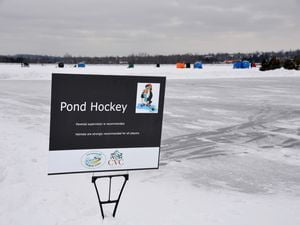 Family Day was made law on October 12, 2007 with the first holiday celebrated on February 18, 2008. With the creation of Family Day Ontario residents now enjoy nine statutory holidays.
In Dufferin County there were a wide range of activities for families to enjoy from free skating and swimming at the Alder Street Arena in Orangeville to cross country skiing provided by the Nordic ski club at Monora Park.
Since Family Day is held in mid February the elements often play a role when choosing an appropriate activity for young families. This year was no exception with the thermometer dipping below -12 with the wind chill. The cold weather however didn't discourage families from attending the numerous activities offered by the Friends of Island Lake (FOIL) and the Credit Valley Conservation Area staff at Island Lake. A record crowd of well over 800 who ventured out onto the frozen lake to either try fishing, skating or snowshoeing.
Learn to fish program was a big attraction with Friends of Island Lake member Steve Murphy providing guidance and instructions. Last year he drilled five holes to accommodate the visitors to the park. This year he had line ups waiting to use one of the 28 holes he and his team of high school volunteers drilled.
The other big attraction was the opportunity to roast hotdogs over an open fire. As I was snapping pictures I questioned if the hotdogs were indeed the attraction or the warmth of standing by an open fire.
FOIL also provided music, large games, chance to hand feed chickadees, tennis ball driving range and pond hockey.
All this talk about outdoor activities is making me hungry so next time I want to share with you some of my favorite eateries that are picture perfect places to relax with friends and or family to enjoy a great meal. Dufferin County is an amazing place to raise a family.
By Wayne White
Photos Courtesy of Wayne White of Family Day 2016 at FOIL