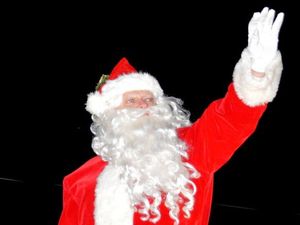 I was very concerned about the Orangeville Santa Claus Parade when I took my dog Sydney for a walk around 1:00 pm in the combination of freezing rain and wet snow. I thought for sure the questionable weather would keep families away. When I arrived on First Street at 4:45 pm I was pleasantly surprised to see the streets lined with an adoring crowd who were anxiously waiting for Santa Claus.
It was challenging taking photos with my lens constantly being covered with moisture from the wet snow. Police Chief Wayne Kalinski came to my rescue and allowed me to warm up in the back of the town's community police cruiser while I waited for the parade to begin. I reassured our Chief that this was my first experience sitting in the back of a police cruiser and that I greatly appreciated his gesture of allowing me into his car in order to keep my camera and myself dry.
With well over 50 entries registered for this year's parade those who braved the elements were treated to an excellent combination of dancers, bands, dignitaries, floats, fire trucks including the Bickel and walkers who were handing out a variety of candies.
Congratulations to Nick Hann for being selected as this year's Santa Claus Parade Marshal. On Friday, October 21 Nick ran from Orangeville to the CN Tower in Toronto to increase awareness and to raise funds for Cystic Fibrosis. He concluded his run by climbing the stairs to the top of the CN Tower. Nick was indeed an excellent choice to be the Grand Marshal.
My next stop will be the Candy Cane Fair hosted by Headwaters Health Care Centre's Hospital Auxiliary. The annual Candy Cane Fair is on Saturday, November 26.
[metaslider id=1784]