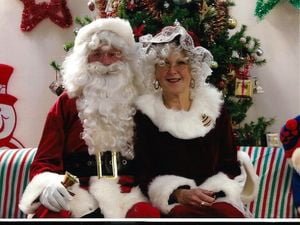 On Saturday, November 26 I attended my fifth Candy Cane Fair as Santa Claus. Three years ago I purchased a Mrs. Claus outfit for Wanda so this annual event has become a team event. I actually enjoy driving my Mini Cooper to the Headwaters Health Care Centre in Orangeville beeping my horn and waving to surprised drivers and passengers in other cars at stop signs and red lights.
Face painting was one of the most popular activities which required a host of volunteers to keep up with the demand. The little ones and some older children really enjoyed having Christmas trees and candy canes painted on their cheeks.
Another feature attraction is the kids' gift shop. At the gift shop children could purchase a token for $2.00 and pick out a gift for mom, dad, grandma or grandpa. Once they had selected a gift or gifts there were volunteers ready and eager to help with wrapping.
There were vendors offering crafts, baked goods and a toonie draw. The young ladies selling chocolate chip cookies even delivered Santa a large bag to munch at the end of the day.
As Santa I was most impressed that LEGO has continued to be a very popular choice with the children. Thanks to Friends LEGO girls are finding a lot of choices that appeal to them. Of course cell phones, computers, electronic games were often mentioned. I was always discrete watching mom or dad with a thumbs up or thumbs down when their child was going over their wish list. Wanda and I had a great time in our roles as Mr. and Mrs. Claus and we look forward to next year's annual Candy Cane Fair in Orangeville.
[metaslider id=1812]