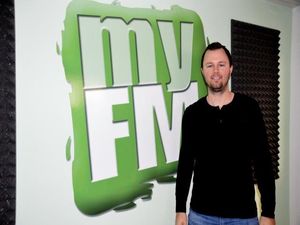 Tommy West has been the morning news anchor since myFM 101.5 was officially launched in February 2015. Tommy, to his credit, also helped to officially launch myFM in Alliston in August of 2013. I first got to know Tommy through his involvement in local events with the myFM community cruiser. He works from 5:00 am to 1:00 pm Monday to Friday and is usually the first staff member to be asked to attend weekend events.
Tommy is from Burlington. He graduated from the Niagara College's Broadcasting program in 2012. He went to Chilliwack, BC to do a co-op at CHWK FM in January of 2012. In February 2012 Tommy started his first job at CJVR-FM and CKJH-AM in Melford, Saskatchewan which is a tiny community north east of Saskatoon. He was excited to have accepted his first full time job but he also realized that, in his words, he had been "thrown to the wolves". He was the afternoon reporter/anchor for the radio station and he was given the added responsibility of being the play by play announcer for the local Junior A hockey team. He single handedly did the hockey broadcast live and the intermission's programming. Of note Darren Millard, who now works for Sportsnet, was also on the news team at CJVR.
While working in Melford one of the unique challenges he encountered was learning how to pronounce the many "funky" names of the hamlets and towns located in Saskatchewan. According to Tommy they were often not pronounced the way they were written. Tommy did have one of his greatest "wow" moments while broadcasting the RBC Canadian Jr. A Championship games. He got to work with Winnipeg Jets' television play by play announcer Brian Munz and his then colour commentator Craig Button. Brian and Craig both offered Tommy advice which he still cherishes to this day.
Tommy spent six months working at Melford before accepting a position with myFM in Pembroke in August, 2012 where he was the morning news anchor/reporter. As previously mentioned he then used his expertise to help launch myFM in Alliston as their morning news reporter.
Tommy realized that there was a real buzz to have a local radio station in operation in Orangeville so he decided to apply for the morning news position. He was interviewed by Gail James who, based on Tommy's mature sounding voice, was expecting a much older and experienced radio announcer. She was thrilled to have him on board to help launch myFM 101.5 on Mill Street in 2015.
I have numerous photos of Tommy attending such events as Ribfest, Orangeville Lions Home and Garden Show, Seven Bridges Run, Island Lake annual Bass Derby, Remembrance Day just to mention a few. We share a common interest in hockey and I try to keep him updated regarding the success of our two Orangeville NHL players, Nick Ritchie of the Anaheim Ducks and Brett Ritchie of the Dallas Stars. I enjoyed my one hour interview with Tommy who has so much to share about his experiences as a radio show host and broadcaster.
[metaslider id=1873]