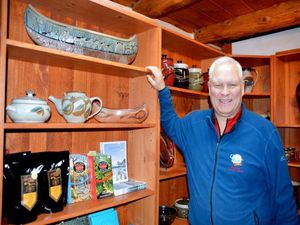 Al Pace, along with his wife Lin Ward, own a lovely pottery shop known as Farmhouse Pottery which is located along the Hockley road just outside of Orangeville. They opened their present location over thirty years ago. It now includes a coffee shop where shoppers can relax and enjoy a fresh cup of coffee and their choice of pie or butter tarts. Al is happy to announce that his shop is now undergoing further renovations so that he can include a workshop for young inspiring potters.
Al first discovered his special talents for making pottery when he was attending Lakefield College, a private boarding high school for boys that is now co-ed. He was one of four boys who took to pottery so he always had easy access to a potter's wheel and time to explore his creativity.
Upon graduating from Lakefield College in 1977, he along with one of his classmates, opened their first pottery shop in Erin on a small budget of only $7000.00. When his partner returned to University in 1981, Al took over an existing printing shop at Mono College as his pottery shop.
Al and Lin moved to their present location in 1986 which is a beautiful log cabin that is nestled along the Nottawasaga River. As his creativity grew so did the demand for his pottery. The Province of Ontario presented Pope John Paul ll with a piece of his pottery during World Youth Day in Toronto. A plate created by Al was presented to Queen Elizabeth ll upon one of her many visits to Canada. While attending Lakefield College he became a close friend of Prince Andrew who was also boarding at the college. They shared a common interest in canoeing and Prince Andrew has become an avid collector of Al's pottery.
In Al's words, the past 40 years have been an amazing journey. He now has second generation customers. Al's desire and goal is to pass on his passion for making pottery. When the current renovations have been completed, his studio Farmhouse Pottery will be providing an opportunity for youth to learn the craft of making traditional and creative pottery right here in Orangeville!
[metaslider id=1893]