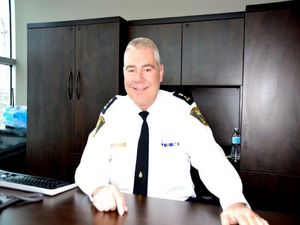 I have met Wayne Kalinski at several community events and I really wanted to get to know the man behind the badge. I was very impressed after my one hour interview and tour of Orangeville Police Services facility. I quickly got the impression that Wayne Kalinski highly enjoys his role as our local Police Chief, is proud of his staff and strongly believes that Orangeville is a safe and wonderful community in which to live.
Wayne grew up living in an apartment which was located in the High Park area of Toronto. His family moved to Whitby when he was fifteen years old. Upon completion of high school Wayne attended Police Foundations at Loyalist College in Belleville. After graduating, he began his illustrious career in policing as a young constable with York Region in 1979. He spent 32 years there before becoming Orangeville's Deputy Police Chief in June of 2011.
Wayne was promoted to Police Chief in January, 2015 and promptly stated that he wanted the Orangeville Police Services to be fiscally responsible which has been achieved under his leadership. Wayne also didn't want to spend his time behind a desk at Police Services. He makes an effort to get out into the community and meet people. He stressed during our chat that community engagement is a major priority. He proudly stated that he has successfully introduced himself to every business in our downtown core.
When asked what he likes about living and working in Orangeville, a smile erupted on his face. It is his belief that Orangeville is a vibrant and safe community with something for families to do throughout the year. We are blessed to have so many successful events especially during the summer months.
Wayne has managed our Police Services without a Deputy. This is one example of his plan to be fiscally responsible. He believes that at some point the board will need to appoint a Deputy to provide a smooth transition in power. He is very proud of having appointed Mary Lou Archer as the Town's first female sergeant.
I just want to conclude by mentioning that Wayne doesn't punch a clock. He is engaged as Police Chief twenty four hours a day, seven days a week. He welcomes opportunities to attend festivals, events and service club meetings. He enjoys "walking the beat" and being visible in the community. He is truly a remarkable police chief and we are so fortunate to have him.
[metaslider id=1915]