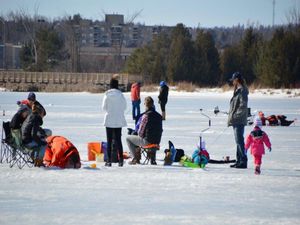 With warm weather and bright sunshine, Island Lake Conservation Area was a big attraction on Family Day. Last year the weather was minus 17 so the warm temperature was a welcome change of events. With over 1000 people registering at the park's gatehouse parking became a major issue and the idea of having to turn people away was actually being discussed by the CVC staff.
The learn how to ice fish program being offered by Steve Murphy was one of the most popular destinations for people of all ages. Steve had over 30 holes drilled and was providing the needed equipment for first timers to enjoy the sport of ice fishing. Steve and his team of volunteers were kept extremely busy throughout the day.
Tennis balls were being used for a golf driving range which was introduced as an activity last year. Snowshoes were available, but with limited amounts of snow, the conditions were less than ideal for venturing out onto the surrounding fields, lake and trails.
I was assigned to looking after the hot dog roasting station. It was extremely busy and I had the opportunity to assist Premier Kathleen Wynne and her family.
CVC was hosting their annual ice fishing derby during the Family Day weekend which attracted a lot of anglers. The lake was dotted with lots of fishing huts of various sizes and colours. My understanding was that the fish started to bite during the afternoon.
I managed to take a lot of photos for the Mullin Group and Snapd Dufferin. Last year my fingers froze while trying to snap photos in the frigid temperatures. My pen even froze and I was unable to record names for Snapd Dufferin. This year I was able to walk around without gloves or a hat. What a difference a year can make.
[metaslider id=2010]