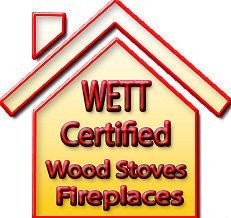 Are you looking at buying an Orangeville Home that has a fireplace or woodstove? Maybe a country property with a wood combination furnace? Then you want to make sure you include clauses in your offer to ensure you will have no problems at closing getting proper insurance.  This is just another reason why you always want to use a local, knowledgeable realtor to protect your interests.
A W.E.T.T inspection is the inspection of a wood burning appliance, for example a fireplace or woodstove, by a certified WETT certified technician. W.E.T.T. stands for Wood Energy Transfer Technology. In order to hold the designation, an individual must be certified and is required to take continuing education in order to maintain their status.
If you are buying an Orangeville home that has a wood burning appliance, your insurance company will require you get a W.E.T.T. inspection in order for them to issue insurance on the appliance should you decide to continue its use. In order for you to do so, you will need to have a W.E.T.T. certified inspector or technician performs the inspection and issue a report. The cost is approximately $150 plus tax, some building inspectors hold this designation and can perform the inspection during the same visit as your home inspection, often times at a slightly reduced cost as opposed to doing the inspections separately. The inspection consists of a visual inspection of the appliance, its components and the surrounding area. The inspector will go through a checklist and take some measurements to insure the appliance meets the requirements that deem it safe to operate. If the appliance is deemed unsafe or there are deficiencies, you will have to have those deficiencies repaired and re inspected prior to insurance being issued or if you don't intend on using the appliance, you will have to speak with your insurance company as to how they will handle that on your particular policy. Your Realtor® will assist you with this during either the home buying or selling process.
We would recommend that if you have a wood burning appliance such as a fireplace or woodstove in your Orangeville home and are considering selling, that you have the inspection prior to placing your home on the market. Doing so will allow you to deal with any deficiencies in advance and save you the stress of having to work within tight deadlines during the transaction. Emotions already run high and having an extra bump in the road can become extremely stressful.
For more information or to locate a WETT professional you can visit https://www.wettinc.ca/ or speak to us. We have access to local professionals including chimney sweeps, brick masons and even gas fitters in case you're considering switching the appliance to gas.
There's nothing quite like the crackling fire on a cool crisp night but, be sure to stay safe when operating your wood fireplace. It is recommended to have your chimney swept annually and your flue and vents regularly inspected. Be sure you have operational smoke and carbon monoxide detectors installed, burn well seasoned logs and kindling and keep a fire extinguisher on hand. Make sure young children stay back and are never left unattended near your fireplace or woodstove.