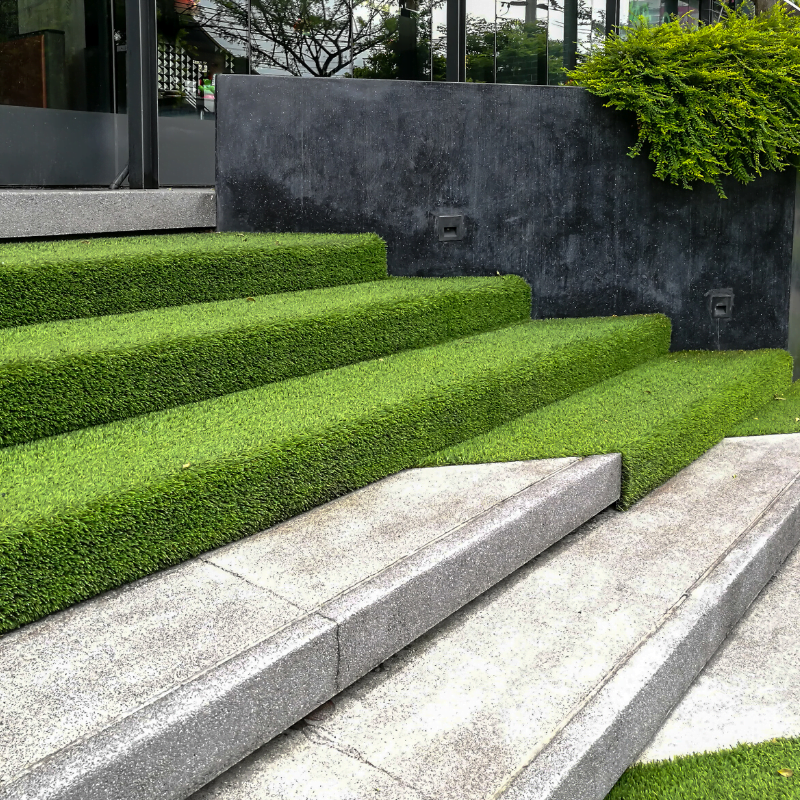 We are all looking for ways to minimize our yard maintenance and still maintain the beauty and curb appeal of our Orangeville homes. Perennial gardens, shrubs, even outdoor living spaces are ways to minimize yard maintenance; but, have you ever thought of installing artificial turf? Artificial turf seems to be popping up in residential areas. But what do you need to take into consideration when selecting artificial turf?
Some Municipality bylaws state that 75% of your front lawn has to consist of "soft ground".  Soft ground refers to gardens and grass material that support growth of vegetation. Artificial turf falls under "hard ground" which includes asphalt, pavers etc. Checking in with your local municipality before installing artificial turf is always a good idea and could save you time and money in the long run by avoiding a fine of $1,400 should you choose not to remove it. In 2019, a Toronto homeowner installed artificial turf on their property. After installing the turf, the homeowner received an award for "Beautiful Front Lawn and Garden". Three years later, the homeowner received notice to have it removed and if she fails to remove it, she will be fined $1,400. Although installing artificial turf in the front yard proves to be problematic, installing it in backyard seems to be fine.
There are various types of artificial turf being offered by different companies, that provided a number of qualities. Nylon, Polyethylene and Polypropylene are to name a few. Let's take a look at each and remember the installation fees vary depending on the product you choose.
Nylon
Nylon is the sturdiest artificial turf. It holds its shape especially in high traffic areas and is resilient to pets and children. It also can withstand high temperatures and will not melt. Because of this, it is the most expensive option.
Polyethylene
Polyethylene is the most popular choice when it comes to artificial turf. It's the most life-like grass with its lively colour, softness and resiliency. These qualities make is the most popular choice for both homeowners and athletic fields.
Polypropylene
Polypropylene is the cheapest selection when it comes to artificial turfs. It is the most realistic looking artificial grass; however, it is also the least resilient and least durable. This turf is most popular for those looking to put in a putting green in their yard or using it for indoor purposes as it is affordable and lightweight.
Artificial grasses offer green grass all year round with minimal to no maintenance. They are a great addition to a backyard with a pool, dogs or your child's play area where some outdoor items tend to kill the grass. They also help cut back on the water bill and make it easier for those with seasonal allergies to grass. Using a product that is recyclable and not harmful to the environment is also an important consideration when having it installed.
Although artificial turfs can be low maintenance, it is important to consider the consequences of removing real grass and installing artificial ones. By removing real grass, it removes a wide range of species that are dependent on real grass. It is also unclear if artificial turfs would cause more floods by not absorbing water as fast.
If artificial turf is something you are considering, make sure to do your homework. Check in with your local Municipal office regarding bylaws and investigate the different choices available before you invest both time and money having it installed only to have to remove it or worse to be fined.