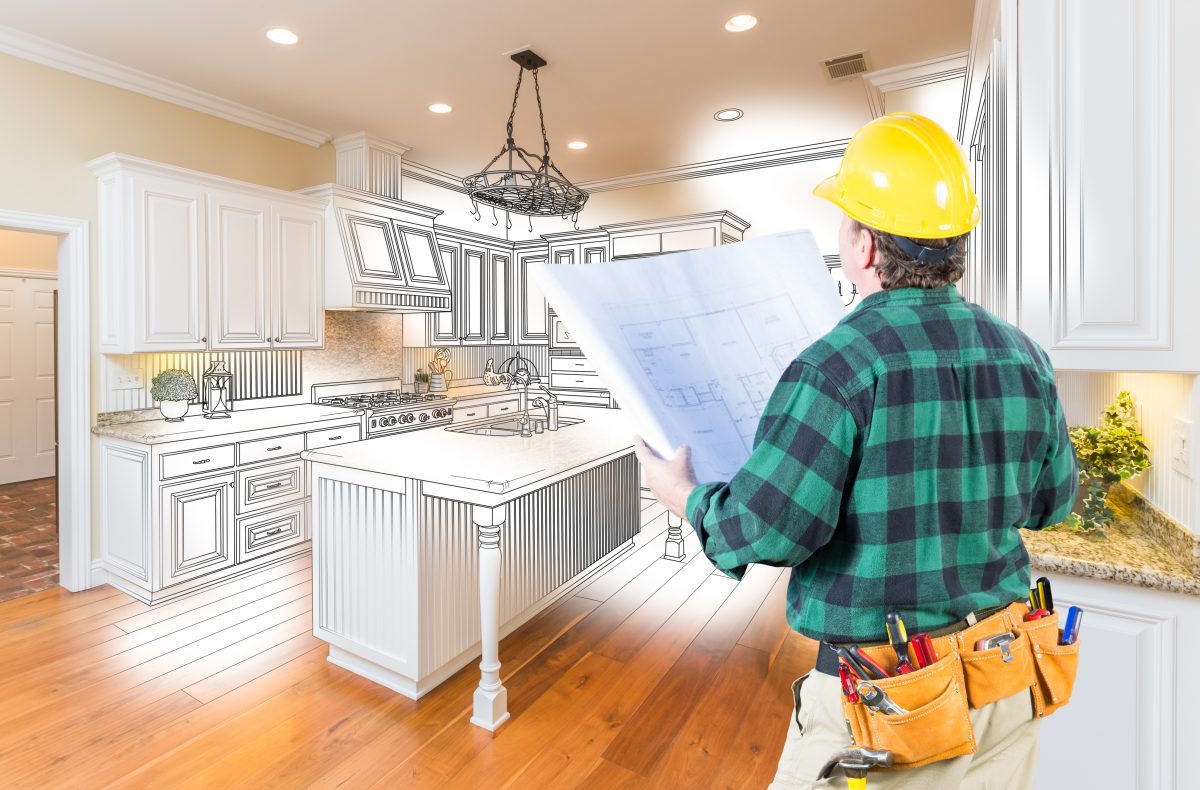 The weather has certainly changed to winter here in Orangeville. Most people think it's time to sit in front of the television and hibernate.  This is the time to tackle those home renovations that you have been thinking about! There are so many reasons why this is the perfect season for home renovations in your Orangeville home.
Part of home ownership is keeping your home maintained like roof, furnace, windows etc and these items do add value to your home but there are other items that can add or subtract value in your home.  As we all know styles change almost every year but it usually takes 10-20 years for fixtures in your home to become 'dated'.  Many times this is dependent on if you had 'classic' fixtures versus 'trendy' fixtures.  The types of fixtures I am referring to are things like kitchen cabinets, counter tops, flooring, light fixtures, paint, wallpaper, bathrooms and overall home style.  We all remember in the 90's the green laminate counter tops in the kitchens, the faux finish paint jobs and the white washed kitchen cabinets.  I hate to break it to you; if you still have these in your home, it may be time for an update.  I have seen so many homes that are immaculately clean and these items look brand new, but they still really date your home.
So if you do not like to update things in your home, you should generally stick to 'classic' styles.  These are items that generally stand the test of time.  Think of some of the old Victorian homes with the classic hardwood floors and the iron fireplaces; these types of fixtures stand the test of time and are always in fashion.  If you like to keep current with the latest home trends then you will need to resign yourself to the fact that you may have to 'update' things at some point, especially when you plan to sell.
So why is the winter a great time for home renovations? Many contractors have time available.  People generally want to build their new homes, decks, fences etc in the summer and that makes contractors extremely unavailable.  When you find a contractor in the summer who has immediate availability you may want to ask yourself why??? That maybe a sign that they are not quite as reputable as you would want.  In the winter months, contractors like the inside (warm) work and they want to keep their staff with plenty to do.  They are not in such a 'rush' to get things done so they may take a little more time in doing your home renovation.
Plan your home renovations as well.  Now would be a great time to get quotes and get in the que with a contractor.  The materials can be ordered.  You can enjoy the Christmas holidays with family and friends in your Orangeville home now and then in the New Year have things torn up.  Sometimes you can coordinate with a winter holiday.  If you have a trusted contractor, you may want to be away while a bathroom gets renovated or flooring gets refinished.
Many times homeowners just don't know where to even begin.  They want to do a renovation that will give them the most return on their investment.  They may have also become 'home blind', meaning they don't even see the need for an update.  If you are not sure, feel free to contact us for a walk through.  We would be happy to make recommendations of things we think would give you the most return on your investment, help you choose finishes that would be most appealing over the long run (especially if you have no desire to sell at the present time) and give recommendations of quality, competitive contractors in our area.  We do have a list of preferred contractors on our website for your convenience.
So you can no longer live by the old adage that "if ain't broke, why change it!"  Part of home ownership is maintenance AND updating.  If you are handy and can do many updates yourself, you save a great deal of money.  If you aren't handy and try to do the updates yourself, you may have just cost yourself another great deal of money.  When in doubt, gives us a shout!