Our Story – Mike & Sheila Mullin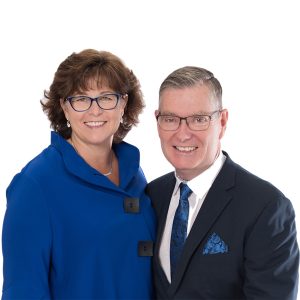 How do you transition from farm living and raising German Shepherds to become movers and shakers in real estate? That's what Mike and Sheila Mullin are still trying to figure out! Selling real estate seemed to be the furthest thing from their minds years ago, when both had successful careers (Sheila in nursing and Mike in sales management). They had no intention of deviating from their career paths at the time. But life intervened, and soon dogs were replaced by children … and the story continues.
Sheila left nursing to raise their children. As the kids grew, she began to help her father, who was a successful Realtor. At the same time, Mike's family business was being sold, so he decided to get his real estate license to build upon the family's success. Unfortunately, Sheila's father passed and they did not get the chance to work as a family team. With heavy, but hopeful, hearts Mike & Sheila quickly stepped up to the plate to fill the void. And the rest is history.
Sheila's caring and compassionate personality assist her in helping individuals and families find the perfect place to call home, making her a sought-after and trusted advisor. Mike's background in negotiating multi-million dollar contracts with clients like Chrysler, DeHavill and Canadair makes him an experienced top negotiator. Their relationships in the community and with other real estate professionals have allowed them to develop an extensive network of buyers and sellers, which has earned them their "On The Move" brand.
In the twelve years that Mike and Sheila have been selling real estate, they have developed their marketing system and grown their business in their smaller local marketplace to become one of the top 1% sales teams in Canada, competing with large centres like Toronto, Montreal and Vancouver. They have developed a number of tools that help clients take the mystery out of buying and selling real estate. Although they love to help individuals with their real estate needs, it's always been family first. Whether it's their children or friends and families in the community, they are always there to help. Mike is a member of a local Lion's International service club and Sheila helps with fundraising efforts for local organizations in the area. People come to Mike and Sheila as clients, then rapidly become friends … and ultimately part of their extended family.
When this couple is not selling real estate, they love to stay on the move, travelling to different locations across the world. Now that their children are off to University, they have more time for little get-aways. Mike has recently become a certified Scuba diver and has a passion to continue to dive in new places. Sheila has always been the party planner and entertainer within their circle of friends. She has developed a Christmas obsession over the years and currently decorates 12 full-sized trees throughout her home for the holidays. Both enjoy spending time fishing either in small lakes in Ontario or deep-sea destinations in the Caribbean. No wonder their friends, family members and clients say they're always on the move.